What is Brius™ ?

Brius™ or Brava™ is the latest in orthodontic technology that integrates the advantages of both metal braces and clear aligner. Brius is not an ordinary lingual braces because the treatment plan and teeth movement for the Brius treatment are designed by the dentist, combined with the detailed analysis with state-of-the-art AI technology based on data from both the teeth and face photographs, x-ray films, scanned data from intraoral scanner and Cone beam CT-Scan. Enabling the dentist to accurately plan the treatment and the teeth movements, making the teeth movement more efficient, softer, less painful, and 40-60% faster than other orthodontic appliances.

Brius braces will be different from normal lingual braces. They are manufactured in the USA and customized to match the shape of each individual tooth, due to the patients' variation in tooth shape. The Brius braces will be attached to the back of the teeth, so no one will notice the undergoing treatment.


Brius is a great option for people who wants to align their teeth without being seen by others and not wanting to keep removing the clear aligners. It is also suitable for those who cannot have frequent dental visits because in Brius treatments, each visit will be 3-6 months apart.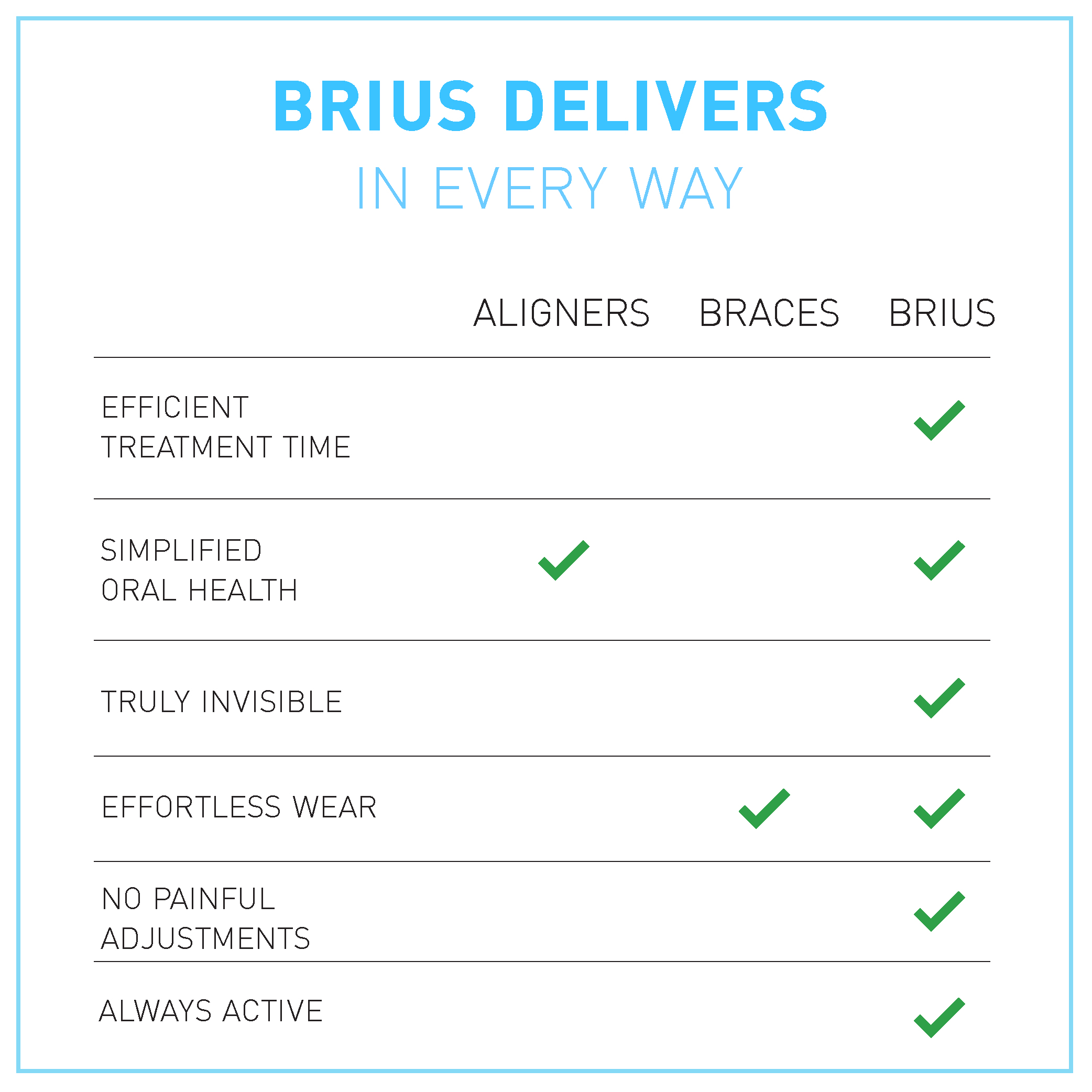 Why do Brius at Dentalwise Clinic?

1. Dr. Napong Puapornpong, an orthodontist at Dentalwise Clinic, was appointed as the pioneer of Brius orthodontic service provider in Thailand. He graduated in Orthodontics from New York University, USA and has more than 20 years of experience in many leading hospitals. He has also treated

more than 4,000 cases

, concreting his skills, experience, and the fact that he has given many patients beautiful smiles and perfect teeth. Dr. Napong himself will plan and provide the treatment in every step. Most importantly, he is willing to answer any questions regarding the treatment before making decisions.

"The plan and results of the orthodontic treatment will be different according to each doctor's treatment plan, despite using the same Brius® system."

2. Our costs include all service fees and materials costs for orthodontics as follows:
• Examination and consultation fees
• Sterilization fee
• Teeth scan by iTero 5D
• X-ray film
• CT-Scan
• All Brius braces
• 1 set of retainer
You must check carefully before making a decision.

3.The clinic is easily accessible. Parking lots will be provided by the clinic 🚘. The clinic is only 5 minutes away by foot from the BTS Sky Train : Thong lo station 🚇.

For more information, please contact us at

📥 Messenger Inbox : m.me/dentalwiseclinic
☎️ 086-4122828, 02-3922628
🍀 LINE : @dentalwise or line.me/R/ti/p/@dentalwise
💌 dentalwiseclinic@gmail.com